I have some great news – the American Association of Professional Landmen published my article on allocation wells in their January/February issue of The Landman magazine! It's the first time I've had an article appear there and I hope it won't be the last. I am often asked what allocation wells are and how royalty is calculated in one for division order purposes. This featured article answers these questions and more. Below you will find an excerpt with a link to read the full issue.
Allocation Wells: What are they and how are royalties and interests calculated?
This month, I'm pleased to share an excerpt and link to my new article on Allocation Wells featured in the January/February issue of AAPL's Landman. It's a topic of continued interest – and confusion.
An allocation well is a type of horizontal well that allows a lessee with a 100% working interest in two or more adjacent tracts to drill a well that traverses – and produces from – each tract. For a lessee, one benefit of an allocation well is that no pooling authority is required even though each tract may be owned by different lessors or mineral owners.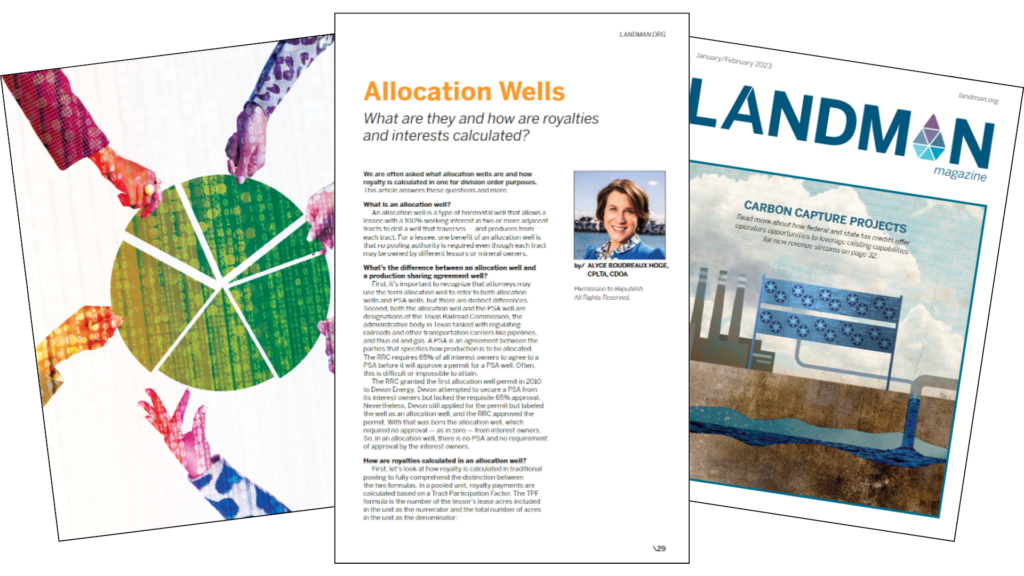 Written in a Q&A format, I hope you find it's a quick read to start your year with a refresher. I've included answers to:
What is an allocation well?
What's the difference between an allocation well and a production sharing agreement well?
How are royalties calculated in an allocation well?
Why isn't pooling required if each tract has different ownership?
How are interests calculated in an allocation well?
How are the interests of the parties calculated?
Which is more profitable for the mineral owner – a horizonal well or a vertical well?
I invite you to read the full article here. The article ends with some reference sources and suggested reading if you want to get into the history or legal rulings.
If you'd like to read the full issue of Landman (and I encourage you to), I've provided a link to the full issue. My article starts on page 30.