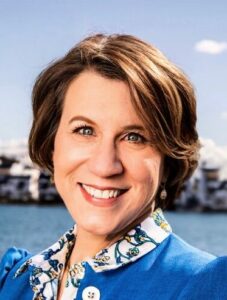 Alyce Boudreaux Hoge is an attorney, Certified Division Order Analyst, Certified Professional Lease and Title Analyst, and a distinguished member and instructor of the American Association of Professional Landmen (AAPL).
A leader in the field of land management training, Alyce is a highly credentialed, engaging and professional speaker with years of experience in the oil and gas industry. Through Land Training, has taught the Professional Land Management Certificate Program at the University of Texas and Midland College Professional Petroleum Development Center where she is currently teaching.
A sought-after presenter and land management expert, Alyce has spoken at many local and national professional conferences. She has also presented many in-house seminars customized to specific company needs.
Her dedication to best practices for both online course development and in-person seminars is evident in all of her courses which deliver current knowledge with cutting-edge tools and strategies. In addition to her Land Training courses, she has developed courses for The University of Texas Petroleum Extension (PETEX) and The Midland College Petroleum Professional Development Center (PPDC).
Unlike other land training instructors, Alyce has held positions in all aspects of land management, including landman, division order analyst, lease and title analyst, and in-house counsel. Her legal background allows her to teach not only the theory of best land practices, but its practical application in the day-to-day lives of land professionals. With a unique, humorous approach to education, Alyce is fond of saying she gives "legal advice with Cajun spice."
She was admitted to the State Bars of Texas and Louisiana and has more than 25 years of experience in the oil and gas industry. Alyce received her Bachelor of Arts degree in history at Centenary College of Louisiana, her Juris Doctorate degree from Louisiana State University Law School, and her post-baccalaureate certificate in Contract Law from Harvard Law School.
Alyce Hoge has spoken at numerous conferences and meetings, including:
AAPL (American Association of Professional Landmen) Webcast – 2016
NHAPL (North Houston Association of Professional Landmen)
Luncheon Speaker – 2012, 2013, 2014
NALTA (National Association of Lease and Title Analysts)
Annual Conference –2008, 2009, 2010, 2011, 2012, 2014, 2017
NADOA (National Association of Division Order Analysts)
Annual Conferences – 2008, 2009, 2010, 2013, 2014
Luncheon Speaker – 2016 – Houston, Texas
ALTA (Association of Lease & Title Analysts)
Luncheon Speaker – 2016 – Houston, Texas