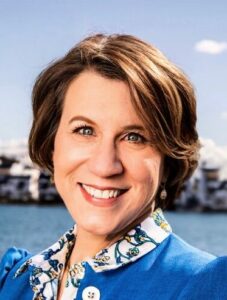 Alyce Boudreaux Hoge is an attorney, Certified Division Order Analyst, Certified Professional Lease and Title Analyst, and a distinguished member and instructor of the American Association of Professional Landmen (AAPL).
A leader in the field of land management training, Alyce is a highly credentialed, engaging and professional speaker with years of experience in the oil and gas industry. She offers popular in-person seminars several times a year in Houston and Midland, Texas; Tulsa, Oklahoma; and Denver, Colorado. Through Land Training, she also teaches online courses through Midland College Professional Petroleum Development Center, and has also taught these online classes at the University of Texas.
Learn More
Alyce is an icon in by book. Smart, informative and humorous all at the same time. This MC experience has been just grand. Thank you ever so much.
Landman Training Courses taught by Alyce Hoge are absolutely essential to anyone that is in the oil, gas and/or energy profession. I come from a background in education and Professor Hoge's teaching style is truly excellent and unlike any other. I will continue to recommend these classes because I have seen the benefits!
Your teaching style is awesome. I see nowhere you need to improve. Overall rate 10 out of 10.
As I am relatively new, it was all most helpful and presented so well in a short time. Wonderful speaker. Really keeps your attention.
The whole presentation was extremely helpful. The speaker's company/training organization looks to be a wonderful enterprise for learning and training. I would rate this speaker as excellent. She was extremely organized, provided excellent materials and was a dynamic speaker. Alyce is an excellent and talented speaker. She would do well with any topic.
Being new to the business, I found the presentation very helpful/educational. Alyce is a great speaker, easy to follow. I would highly recommend to others.
Alyce was very energetic. I would heartily recommend her as a speaker. Fabulous speaker! Very excellent and humorous presentation!
Alyce is a 10. I finally understand the types of trust, inter-vivos and testamentary. Also learned rules of descent. I would highly recommend her!
I think you do a great job in teaching. I would tell everybody to take your class. It is for both beginners and seasoned people.